Keto Resource: 28 Day Keto Challenge Reviews
Does it work?
The Ketogenic Diet
The Ketogenic Diet or "KETO" is a low-carb, high-fat and adequate-protein diet.  A highly restrictive diet on the intake of carbohydrates (e.g. sugar, breads and pasta), Keto suggests more intake from healthy fat and protein sources (e.g. meat, fish, poultry, eggs, cheese, nuts, seeds or avocados).
Mainly due to its restrictive dieting method and the process called ketosis, the Keto diet has recently gained popularity among many dieters to effect weight loss.
Ketosis. What is it? On a normal diet, carbohydrates in the foods we eat are converted into simple sugar or glucose. Glucose is then used by the body to fuel its processes and especially its brain functions. When carbohydrates are restricted in the diet, as in a Keto Diet, the liver starts converting fats in the body into fatty acids and ketone bodies to replace glucose as an energy source. When there is an elevated level of ketone bodies in the blood it is called Ketosis. When ketosis is happening, it simply means the body is burning fat instead of sugar. In this process dieters can lose a significant amount of weight.
The Keto Resource 28 Day Keto Challenge
Keto Resource created the 28-Day Keto Challenge. A guided ketogenic diet with a specific daily meal plan designed to help the dieter navigate through the critical period of first month of the diet to ensure success in weight loss.
They have observed that failure in doing the ketogenic diet, lies mainly in some significant faults made by the dieter in the first 28 days of doing the ketogenic diet.  Consciously or unconsciously when these faults are made, the dieter will eventually fail to reduce the excess weight, become disheartened and lose the inspiration to achieve his weight goals.
The 28-Day Keto Challenge provides some books and guides which the dieter must strictly follow within the 28 critical days beginning the diet.  The guides aim to put the dieter on ketosis to let the body burn fat in order to ensure weight loss.
The Seven Guides Of The 28-Day Keto Challenge
The 28-Day Keto Challenge makes a dieter follow these 7 Guides in order to assure weight loss:
Guide #1: Keto Diet: The Basics
The introductory guide to the Ketogenic Diet. This book outlines the basics of keto diet. It is important for the dieter to understand this guide. Here, you will also find the following:
11 Reasons Why The Keto Diet Is Beneficial For You
A Keto Food Pyramid 
13 Success Tips
Food List Of What Can and Can't Be Added to Your Diet
Guide #2: Eating on Keto
The Recipe Book of  38 delicious recipes you can cook. It includes suggestions for 10 breakfast recipes, 14 lunch recipes, and 14 dinner recipes. Also it provides recipes for snacks and helpful tips to curb food cravings.
You will also get the  28-Day Meal Plan Calendar, to guide you to the foods you can eat during your critical first 28 days on the Keto Diet.
Guide #3: Ketosis: Tips for Staying in Ketosis
This guide book will teach you how to shift into a state of ketosis within 72 hours. Likewise, you will learn the following:
Switching Out of Ketosis
Signs and Symptoms To Know that Ketosis is Happening
What to Expect if the Body is in Ketosis
And More..
Guide #4: Macros: A Micro Look at Macronutrients
This guidebook is very important. This book teaches you how to calculate your ketogenic macronutrients and how to maintain the correct ratios in order to sustain the state of ketosis. You can also learn the exact amounts of your daily carbohydrates, fat, and protein consumption.
Guide #5: Keto Flu: Beating It in a Healthy Way
Beating the Keto Flu. Keto Flu is a flu-like physical symptom that other people feel when shifting to a high-fat, low-carb diet or when glucose in the body is replaced with ketones as fuel and energy source.  These symptoms however do not last long and this guidebook will help you get through the keto flu with helpful guides and tips.
Guide #6: Intermittent Fasting: Tips for Success
This book guides you through a healthy combination of "IF" or Intermittent Fasting and Keto (Ketogenic Diet). Although doing intermittent fasting while on a keto diet is not necessary to lose weight but Keto Resource says it can speed up weight loss. Here you get to learn the basic thing you need to know about IF, the 5 kinds of IF and its benefits.
Guide #7: Keto and Friends: Dealing with Social Pressures
This guidebook lays out tips on how to deal with or beat social pressure that is commonly associated with Keto dieting. You will also find here a chart and wise tips to eating and dining out, and guides when drinking alcohol.
Any Freebies and Bonuses?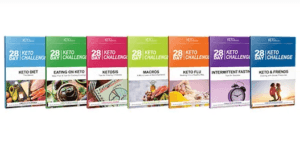 Good question. These following freebies are offered together with the 28-Day Keto Challenge:
#1 Keto Desserts
A cookbook that contains 36 delicious keto dessert recipes.
#2 Avocado Recipes
Healthy and delicious recipes with Avocados, a very important  component in most keto diet recipes. Find in this cookbook the five best recipes to prepare avocados.
#3 Keto Supplement Guide 
Find the  12 best supplements for creating a keto diet in this this book and more….
If you want to check the 28-Day Keto Challenge. CLICK HERE:)

The Pros and Cons of the 28-Day Keto Challenge
The Pros
Easier to Follow & Sustain Guide Plan
Making one's own keto diet plan can be challenging. With the 28-Day Keto Challenge you get a package of developed and organized keto meal plans which makes it easier to start and sustain until the desired results are obtained.  This pre-made diet plans, recipes and techniques has been designed to effectively deliver results, so saves you from having to count the fat, carb or protein contents of your meal. Saves time and energy. Best of all is that it is easy.
Provides for Easier Transition to the Keto Diet
Shifting to a Keto Diet may sometimes mean a shift in lifestyle and social habits. This could cause social pressure and sabotage your success in achieving your weight goals.  What is advantageous with the 28-Day Keto Challenge is that it helps you transition socially when doing the keto diet. And it aids you through the keto flu to lessen body stress when it transitions to ketosis.
Free Keto Recipes
The 8-Day Keto Challenge includes more than 70 delicious keto recipes. The meal recipes and desserts appear tasty. This could save you time searching for the best foods to eat when on a Ketogenic Diet.  Also the fat, protein and carb contents of these recipes have already been custom suited to give you best results while doing the keto diet.
Weight Loss & Other Health Benefits
The most promising benefit of Ketogenic diet is causing you to lose weight. When the body is in ketosis, you burn fat and in effect lose weight. The 8-Day Keto Challenge is designed to give you the best benefit that ketosis in your body can give you.  Although different people have different adaptability and results doing any diet, but with a ketogenic diet, weight loss is an assured outcome.  This of course is provided that the dieter follows the recommended keto diet plan faithfully.
In a study printed in the journal of  Experimental & Clinical Cardiology, it is shown that a long-term keto diet by obese patients helped in lowering their weight and BMI (body mass index). It also lowered their blood sugar levels, LDL (low-density lipoprotein) and triglycerides levels.
Money Back Guarantee
If you buy the product and could not see it's benefits you can claim your guarantee and claim your money back.  So if you feel like purchasing this product, go ahead. Should you need to return the product sometime after, you can always claim your Guarantee and therefore you're not really losing money. The benefit is that you get to try the product and see for yourself if it really works.
The Cons
Health Issues On Animal-Derived Fat and Proteins
For a sustainable and healthy keto diet, it is advised that the diet should be more plant-based than animal-derived. There are studies that tend to show some health risk with animal-based or derived diets which goes with all kinds of diets, not just keto diets. For this reason, it is recommended to eat instead more healthy sources of fat and protein and if possible let it be plant-derived or plan-based.
It is A Restrictive Diet
Another legitimate concern with a Keto Diet is that it is too restrictive on carbohydrates intake which can cause you to lack vital and needed nutrients of the body. So when on  keto diet, it is advisable to take vitamin and mineral supplements to make up for what you are not able to eat while on this restrictive diet.
Also, as with other diets, always consult or talk to a dietician to help you adapt safely into the keto diet. Always remember that your safety and well being is a top priority.  Carbohydrate abstinence may seem difficult at first but with help and proper guidance you will eventually get adapted to the keto diet.
Strive to lose weight fast with keto diet because it is not advisable for you to do this long term. There are health risks such as increased levels of uric acid or in rare cases development of kidney stones. This is where the 28-Day Keto Challenge comes helpful. It's not a long term program and has been designed to give you quick and effective results which is ideal if you want to lose weight with a keto diet.
So, if you want to do a keto diet, especially because you don't need to count calories and you eat all you can for as long as it is in the meal plan, I suggest you try the  28-Day Keto Challenge. Do the program and stick to it. And when you achieve your desired weight, maintain it by making diet (eating healthy) and  exercise your new lifestyle. Diet and exercise are the all time solution to prevent gaining back the weight you have lost.
Delivery  Issues
On the Better Business Bureau (BBB®) website, complaints about the delay or non delivery of the physical copies of the Keto Resources's guidebooks has been posted. While these complaints were later resolved, we still have the minor issue of delivery and shipping of the hard copies of the guidebooks.
Digital Format
For now the 28-Day Keto Challenge is only available in digital format. It may seem a setback for some who want a hard copy delivered to them. Although the benefit of a digital format is that it is easily accessible, anywhere and anytime you want. Instantly use it after downloading and payment of course.
If you still want to buy and want a hard copy, then by all means try printing. That should be easy.
Final Thoughts
My Real Diet Advice for you: If your purpose is to lose weight then by all means you can buy the 28-Day Keto Challenge. They have a money back guarantee so you can always claim your refund should you see no benefit in the product. Get your money back.
Ketogenic diets have been proven to lose weight. Primarily on the premise that it is restrictive and puts your body into ketosis to burn fat effectively. However, ketogenic diet cannot be used long term and that is the reason for the 28-Day Keto Challenge. It is the ideal period to spark ketosis and let's you start losing weight.
When you achieve your ideal weight shift to a less restrictive diet and do exercise or weight training to firm up and keep muscles from melting. Do not forget to always take some vitamin and mineral supplement when on a Keto diet. You need to support your body with needed and vital nutrients.
Because the 28-Day Keto Challenge is a complete guide it should be able to help you in your first month doing the keto. This eliminates the dangers of formulating your own keto recipes without proper counting and balance of fat, carbs and protein. Also it has recipes, guides and tips to sustain and keep you in the program until you get your results. Just follow the guides faithfully. Always remember it is you yourself who is the key to your own success or failure.
Ketogenic diets also have significant health benefits. But it also has certain health risks when used long term. This means simply that a ketogenic diet should be used only until you get your results. Also try to use more plant-based keto recipes and less animal-derived ones. Meaning load up on healthy sources of protein and fats.
Finally, one significant setback is that it is only available in digital format for now. So if you want a hard copy, you might need to print one for your use.
Here laid out for you are some details of the 28-Day Keto Challenge. You can read the pros and cons, so it should not be hard for you to make an informed decision.
Sincerely hoping you have a happy and healthy life!
Recommended Post For You
Sources: